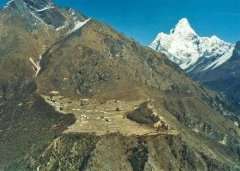 Phortse Village Development Project
This project aims to improve the facilities available in the Sherpa village of Phortse, working in co-operation with an experienced project leader who knows the village well.
Why not view the Himalayan Hands - Phortse Team homepage written by the members of the project.
Background
The small village of Phortse is situated in the Eastern Himalayas, north of Namche Bazaar, at a height of 3840m. The inhabitants are 400 Sherpas, whose livelihoods are based on farming small plots of land and acting as guides or porters during the tourist season. One of the main problems in such a remote community is the provision of a proper education for the children, and a key factor in this is attracting and retaining good teachers.
The village has been assisted for many years by a British volunteer, Tony Freake J.P., who has funded and helped to construct a teacher's hostel, a medical clinic and a Buddhist monastery. He has also worked with the villagers to maintain their school, which is an old building in need of a lot of upkeep.
The Project
In 1999 several further steps were made to improve the facilities at Phortse. A new school building had been designed and built in time for the new school year. This made possible a wide range of projects including:
The original school building was converted into a children's play area and youth centre.
Fundraising was generated for games equipment that was then transported out to the village.
The end of the old school was converted into a telecommuications room to hold a phone for the village.
The new school building was decorated and wire and perspex protection for the glass was added to the windows.
Volunteers worked with the children in games and teaching.
Please take time to take a look at the continuing work in phortse at the Phortse Community Project website.