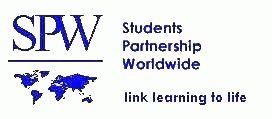 Students Partnership Worldwide (SPW)
Chitwan National Park Project
For the Chitwan National Park Project, Himalayan Hands joined forces with SPW who have already completed several small scale community construction projects in the area.
Background
SPW is a "youth focused development charity" that runs six-month long expeditions with (18-25 yr old) UK and Nepali volunteers. All SPW programmes are designed to raise awareness of development issues at home as well as assisting the local communities. SPW places strong emphasis on social and cultural interaction. All Himalayan Hands volunteers underwent a pre-project orientation programme in Nepali language and culture.
The Project
Like all SPW projects the Himalayan Hands Chitwan National Park Project was one identified by the local community as useful to them. Examples of these simple projects include: improvements to sanitation facilities, or constructing a central community seating area around a village tree (a popular meeting place in Nepal).
The project identified was to construct a new school in the village. This school could not be completed within the timescales of the project but a great deal of progress was made and since the project the school has now been completed.
The benefits to the local community were not only be material in the form of improved facilities but also increased awareness of their position and needs by the wider world community. Both local and UK volunteers will gain increased cultural understanding and tolerance by working together to achieve a common goal.